Violence against women is a prevalent and serious human rights abuse that causes significant harm to individuals, families, communities and society. Violence against women comes in many forms and occurs in all socio-economic, age and cultural groups and locations in Australia. Women's right to live free from violence is recognised in international agreements as a fundamental human right.
Prevalence
In Australia, one in three women have experienced physical violence and one in five have experienced sexual violence since the age of 15 (ABS, 2013). On average one woman a week is killed by a partner or former partner (Cussen & Bryant, 2015). Violence against women and their children costs Australia $21.7 billion each year (PwC, 2015).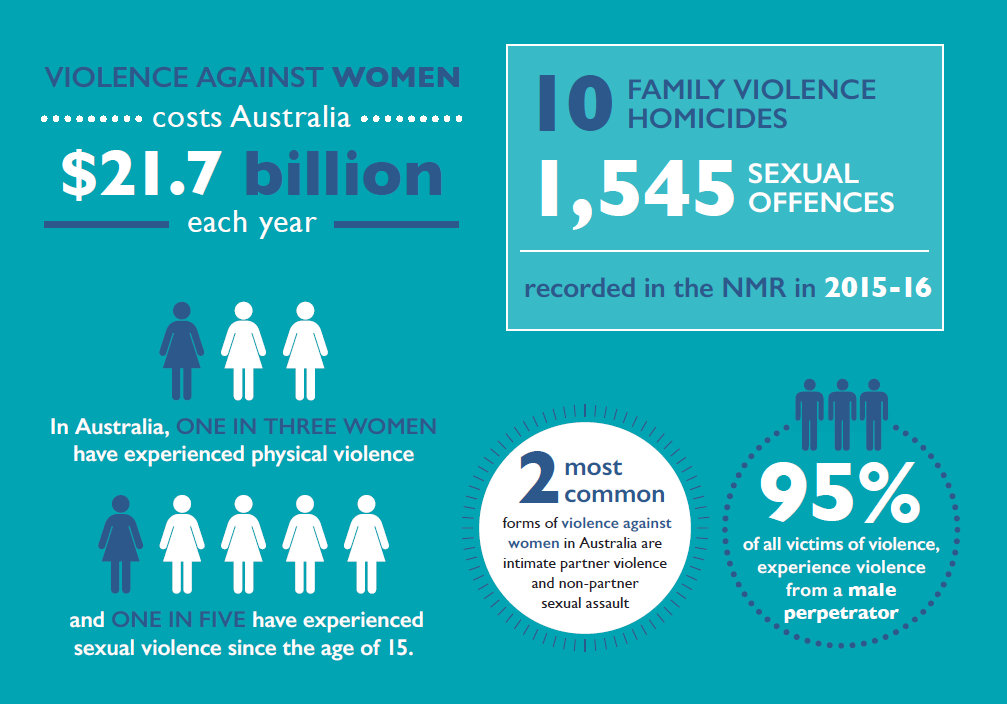 Other forms of discrimination – including colonisation, racism, ableism, ageism, homophobia, transphobia and classism – intersect with sexism and misogyny to increase the prevalence and severity of violence (Department of Premier and Cabinet, 2016; Our Watch et al., 2015). Violence can intensify during different life circumstances, including youth, pregnancy or when women attempt to leave violent relationships (VicHealth, 2017).
In the northern metropolitan region (NMR), the number of reported family violence incidents increased from 11,586 in 2014-15 to 12,149 in 2015-16. In 2015-16, on average, 234 incidents of family violence were reported to police, every week.
For current national statistics, refer to Our Watch. For rates of family violence and sexual assault in the northern metropolitan region of Melbourne, refer to the Violence against Women Fact Sheets <link to WHIN's VAW Fact Sheets in Resources section>.
Impacts
Men's violence against women has serious and long-lasting consequences for women's health, in particular their sexual and reproductive health and mental health (Australian Women's Health Network, 2014; UN Women, 2015). It also has significant social and economic consequences, negatively affecting academic performance, employment and participation in public life (UN Women, 2015). Additionally, exposure to violence against a mother or caregiver can cause profound and long term harm to children (Our Watch et al., 2015).
Experiences of violence are gendered, with women and men experiencing different types of violence in different contexts (Our Watch et al., 2015). The majority (95%) of all victims of violence, both women and men, experience violence from a male perpetrator (ABS, 2013). The two most common forms of violence against women in Australia are intimate partner violence and non-partner sexual assault (Cox, 2015).