The 16 Days of Activism Against Gender-Based Violence is an international campaign that takes place each year. It commences on 25 November, the International Day for the Elimination of Violence against Women, and runs until 10 December, Human Rights Day. This year marks the 30th anniversary of the campaign. The theme for this year will be Respect Women: Call It Out(Respect Is).
This year, to build awareness and promote community conversations, WHIN will:
Run a social media campaign with WHIN's original 16 Days of Activism against Gender-Based Violence tiles
Share our WHIN 16 Days Tookit
Tailor the Respect Victoria Are You Safe at Home? resources to our communities in the northern metropolitan region and deliver these materials over two online community events in community languages (Marathi, Hindi and Tamil)
Offer online presentations for the BRC Partnership on the meaning behind the 16 Days of Activism Against Gender-Based Violence campaign.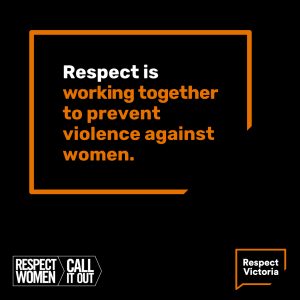 In 2021, Respect Victoria and DV Vic/DVRCV (Domestic Violence Victoria, Domestic Violence Resource Centre Victoria) are partnering to deliver and support local engagement in the 16 Days of Activism Grassroots initiative. WHIN has been funded through this initiative.
Watch this space and our Facebook and LinkedIn pages for more details to follow. Please contact Malavika Kadwadkar (malavikak@whin.org.au) to inquire about a WHIN speaker at your event.